News
ACRI 2014 in photos
Photo relation from ACRI 2014 is now avaliable, at photobucket.

Special open session by ISI Center
We would like to invite for a special session oranized by ISI Center of AGH University. Participation in the session in free of charge and open for everyone. The session "CA and Complex Systems from theory to practice" will take place on Wednesday 24 afternoon. For further information please visit the Program section.
Preliminary program available
Preliminary program of ACRI 2014 Conference is now avaliable (both main track and workshops):
More details about conference program are avaliable in Program section.
Registration opened
ACRI 2014 registration is now open. ACRI 2014 registration link
More information are avaliable in Registration section.
Submission date - extended
Submission date is extended. New paper submission date is:
April 7, 2014 for main track

April 14, 2014 for workshops
Call for Workshops Proposals
Call for Workshops Proposals has been announced today. Workshops Program will be held on September 22, 2014. All proposals should be submitted by electronic mail, to the ACRI-2014 Workshop Chair email address (bandini@disco.unimib.it) as soon as possible and no later than January 9 2014.
For detailed information visit: Workshops
ACRI 2014 web page launched
Today new, beta version of conference page was released.
Any remarks about this webpage functionality or content please send to acri2014@agh.edu.pl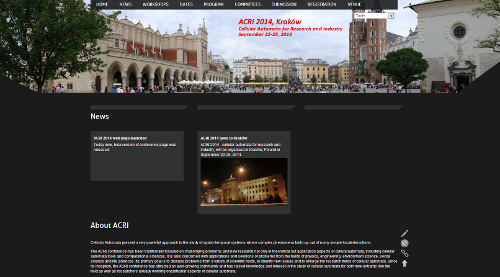 ACRI 2014 in Kraków
ACRI 2014 - cellular automata for research and industry, will be organized in Kraków, Poland in September 22-25, 2014.
Similarly to last edition all accepted papers will be published by Springer-Verlag in the Lecture Notes in Computer Science(LNCS) series and will be available by the time of the conference.