Kraków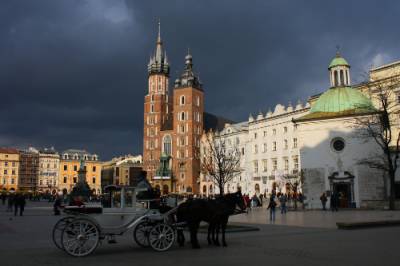 Kraków, as the second largest and one of the oldest cities in Poland is located in the southern part of Poland in the Lesser Poland region. The history of the city dates back to the 7th century. Since the Middle Ages Kraków had been the capital of the Polish state until the 17th century and has kept the character of a spiritual capital till the present day.
Kraków is one of the places in the world which have been included in the UNESCO World Cultural Heritage list. The architectural complex of the Old Town has survived all the cataclysms of the past and preserved the same, unchanged layout since the Middle Ages. The Old Town together with the Wieliczka Salt Mine have been recognized as some of the most valuable architectural treasures of the world. There are over 300 town-houses and 58 churches and palaces, all considered historical monuments just within the old center of Kraków and that is just a small part of all the monuments of this city.
Detailed travel guide to Kraków
Getting to Kraków
Kraków is one of the most popular tourist places in Poland and there are a lot of direct flights to Kraków Balice airport. It may also be convenient to fly to one of the other nearby airports and travel to Kraków by train or bus. ACRI 2014 Venue is located in the very center of city.

Getting from Kraków Balice (KRK) airport
Balice Airport is located 14 km from the Kraków city center. Approximated travel time from airport to city center is about 20 -30 minutes.
Taxi
There is a taxi stop just outside the main airport building (official airport taxi line). http://www.krakowairport.pl/en/passenger,c70/transport-parking,c76/krakow-airport-taxi-service,a202.html Price from the Balice Airport to the City Center is 69 PLN (Zone 3: 10 - 14.9 km).
You can also call Radio-Taxi (cheap - economical option): for instance http://icartaxi.eu phone: +48 12 653 5555 (Price 35 - 50 PLN - you can ask by phone).
Bus
Take a bus 208, 292 or 902 (night bus) directly to the city center (Main Railway Station "Kraków Główny"). The bus "208" has a bus stop "Miasteczko Studenckie AGH" located just in Campus of AGH (Hostel Olimp), and "Kawiory" next to the conference venue building B-8. The bus "292" has a bus stop "AGH" located near main building of AGH (Building A0).
More information:http://www.krakowairport.pl/en/passenger,c70/transport-parking,c76/how-to-get-to-krakow-airport,c77/by-public-bus,a198.html
The current schedule can be found on http://krakow.jakdojade.pl/?locale=en By simply typing the starting point (e. g. Balice Airport) and destination point (address or bus stop name) the service finds the best connections. There is also a mobile application available for Android, iOS and Windows Phone (internet connection is necessary).
| Hotel name | Address | Bus stop name |
| --- | --- | --- |
| Hostel OLIMP | Rostafińskiego 9 | Miasteczko Studenckie |
| Antica | Czarnowiejska 79 | Kawiory |
| Globtroter | Pl. Szczepański 7/15 | Teatr Bagatela |
| Europejski | Lubicz 5 | Dworzec Główny |
| Pollera | Szpitalna 30 | Dworzec Główny |
| Unicus | Św. Marka 20 | Basztowa LOT |
| Radisson | Straszewskiego 17 | Filharmonia |
| Kosmopolita | Długa 29 | Nowy Kleparz |
The closest bus stop to conference venue (pavilon B-8) is Kawiory or Czarnowiejska.
Train
There is a direct train connection between KRK airport and Kraków Center. However, due to the beginning of modernisation works of the railway line, trains from Kraków Airport to the Kraków City Center will be suspended on September 2014!
Other nearby airports
Katowice Pyrzowice (KTW) airport
Located in central-south Poland Katowice Pyrzowice airport (107 km from Kraków city center) is connected with Kraków by a direct bus connection (prior booking is required) :
http://www.pyrzowiceekspres.pl/en
http://www.matuszek.com.pl/transfery_en_3.html Travel from Pyrzowice to Kraków takes about 2 hours.
Warszawa Okęcie (WAW) airport
Located in the central part of the country Warszawa is the capital and largest city of Poland. Its airport Warszawa Okęcie (349km from Kraków) offers largest number of international flight connections. In order to get to Kraków from Warszawa Okęcie:
Take a bus 175 to Dworzec Centralny (Warsaw main train-station)

Travel by train from Warszawa Centralna directly to Kraków Główny
Online timetable: http://rozklad-pkp.pl/bin/query.exe/en?
Okręcie airport access: http://www.lotnisko-chopina.pl/en/passenger/access-and-car-parks and http://www.ztm.waw.pl/index.php?c=571&l=2
Travel from Warszawa Okręcie to Kraków takes about 4 - 4,5 hours.